Carbest D+ simulator 12V
D+ signal simulation for easy installation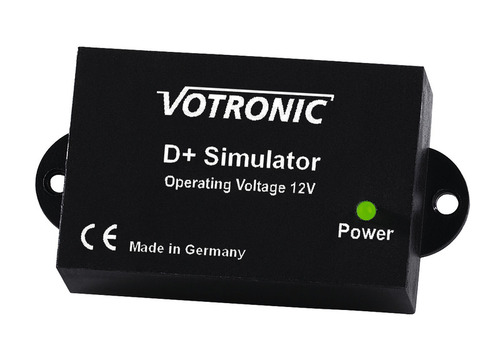 Please inform me as soon as the product is available again.
Prices incl. VAT plus shipping costs
not in stock, can be ordered
can be ordered
Order number:
812241
Control unit for recording charging operation in a 12 Volt on-board power supply (engine...
more
Control unit for recording charging operation in a 12 Volt on-board power supply (engine running). If additional consumers are only to be switched on when the engine is running (the alternator supplies power) or if the on-board battery is to be charged via an isolating relay by interconnecting the on-board and starter batteries, the D+ contact of the alternator is usually used to control a relay. However, this contact is often not accessible in the vehicle, no longer available with newer alternators, not available with a container superstructure or voltage-dependent control is generally required. Here the D+ Simulator provides remedy. It generates a voltage-controlled signal (e.g. from the starter battery) for a subsequent powerful (disconnecting) relay, which can also be used to control auxiliary consumers that are only to be activated when the battery is sufficiently charged, such as switching on an air conditioning system while the vehicle is in motion or switching a refrigerator, a cold box or a heat box to 12 V on-board operation. An intelligent voltage evaluation of the switching thresholds avoids faulty triggering in the event of voltage drops or peaks. The dynamic threshold detection also avoids oscillation around the switching points when switching very large loads. The switching status is indicated by an LED. The electronics are protected against moisture, the connection is made in the rear terminal compartment by means of a plug-in screw terminal. The switching output can be loaded with 12V / 0.5A, is short-circuit and overload-proof and of the type PNP, plus output, load grounded.
Related links to "Carbest D+ simulator 12V"
Product Dimensions 70 x 36 x 17 mm