Lithium Iron Phosphate Battery 12V 130Ah
Eza battery - everything you need in one device!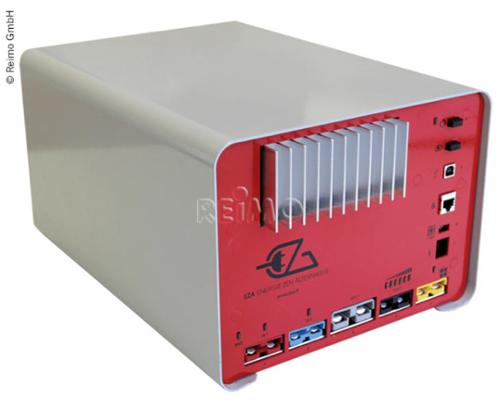 Please inform me as soon as the product is available again.
130Ah load in less than 2 hours travel time through rapid charging system
Charging booster, solar regulator, battery management and LiFePo4
V2 Special Euro 6 / App-capable
Control with suitable end devices via Bluetooth
Usable current quantity corresponds to approx. 320 Ah AGM battery
Battery Lithium The Perfect Motorhome Battery
Prices incl. VAT plus shipping costs
not in stock, can be ordered
can be ordered
Order number:
813481
The EZA System V2 Special Euro 6 enables self-sufficient camping without fuel or gas. In...
more
The EZA System V2 Special Euro 6 enables self-sufficient camping without fuel or gas.
In addition to the normal EZA 130, the V2 offers control with suitable end devices such as smartphones via Bluetooth and is suitable for Euro 6.
Thanks to the innovative charging management and connection to the alternator, the EZA system can be charged with almost 100 amperes per hour of driving time.
When connected to the transfer point for body manufacturers, the charging capacity per hour is slightly reduced.
The 130Ah lithium iron phosphate battery can be fully charged in less than 2 hours driving time and provides as much power as approximately 320 Ah AGM batteries.
The EZA system has an integrated charging booster, a solar regulator, a battery management system and a high-performance lithium iron phosphate battery and is supplied complete with a cable set for connection to the alternator in the Fiat Ducato.
Lithium iron phosphate batteries have an extremely low self-discharge (less than 3% per year) and are therefore ideally suited for use in recreational vehicles, even if they are not used all year round.
The service life of lithium-iron phosphate batteries, with approx. 2000 charging cycles, is many times longer than that of an AGM battery and offers considerably more current.
With lithium iron phosphate batteries almost 100% of the stored current can be taken without damaging the battery, with AGM batteries often only 40-50% of the current can be taken, e.g. 55 amperes with a 110 Ah AGM battery.
Lower weight, higher power and long life combined with low self-discharge make lithium iron phosphate batteries ideal for use in motor homes and all other types of recreational or expedition vehicles.
Lieferumfang:
Lithium-Eisenphosphat Batterie, Batteriemonitor, 2 Fixierungsgurte, Anschlusskabel an den Ausgang des Systems, Anschlusskabel Solaranlage, Notfallkabel, Schrauben- und Verbindungssatz.
Related links to "Lithium Iron Phosphate Battery 12V 130Ah"
Product Dimensions (HxBxT) 203 x 268 x 360 mm